Hon. Samal Mojah Duggins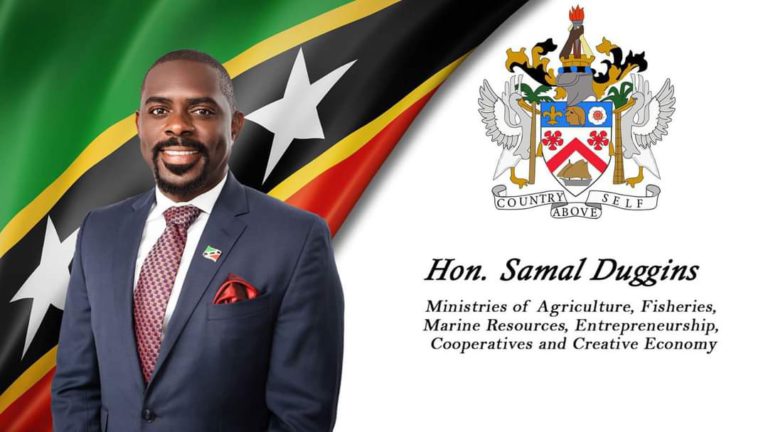 A proud national of St. Kitts-Nevis was born on November 13th, 1984 on the Island of St. Kitts to Michelle Duggins of Trafalgar Village and Samuel 'Mojah' Francis of Mc Knight.
Samal received his primary and secondary school education at the Dr. William Connor Primary School and the Verchilds High School, respectively. He excelled academically and secured a scholarship from the St. Kitts Bottling Company (SKBC) and later the distinction of being named valedictorian of the graduating class for both learning institutions. On its 50th Anniversary, Samal was recognized by the SKBC as its 'Most Outstanding Scholarship Student' to date.
In 2004, Samal returned to his alma mater, the Verchilds High School, as a Math Teacher. Inspired by the opportunities afforded to him by the SKBC, he launched the 'Samal Duggins Academic Excellence Award' where he offered annual scholarships to the Best Performing Male Student from the graduating class of the Dr. William Connor Primary School. This program was later expanded to include the Bronte Welsh Primary School and the Verchilds High School.
In 2006 his passion for entrepreneurship, marketing, and creative arts grew and gave birth to Island Xpressions – a strategic brand development and marketing firm which focused on increasing sales performance and improving brand visibility for its clients. As a result, Samal has been the creative mind behind some of the most innovative brand campaigns as well as video and audio advertisements on the local and regional markets.
Samal is also an accomplished poet and rapper, songwriter, music producer, and television personality whose credentials include penning the UNESCO Small Islands Voice global theme song, performing on the St. Kitts Music Festival, and hosting the St. Kitts Visitor Channel.
His commitment to the arts bore fruit when he founded the immensely popular Island Xpressions Poetry and Open Mic Night which gave relatively unknown performers a platform to share their work and, in some cases, launch their careers in the performing arts. The overwhelming response spurred him to produce his own television show, "Xpress Yourself", which showcased video clips of the most inspirational and thought-provoking poets, musicians, and dancers in the Federation and further afield.
Soon after a charitable arm of the Island Xpressions brand, known as Project P.O.E.T.R.Y (Putting Our Energy toward Refocusing Youth), was established for the purpose of providing youth with a positive avenue for self-expression through poetry and the spoken word.
As a result of his work in the arts and his work with the Federation's youth, Samal served and still serves as a motivational speaker and youth seminar facilitator for several government and non-government agencies including the Ministry of Youth. His efforts were recognized nationally when he was awarded the Liamigua Youth Award by the Liamigua Youth Legacy Awards Association
In 2010 he met Ermelin Sebastian. They married in 2015 and share two boys.
In 2017, he furthered his studies in entrepreneurship and marketing by obtaining a Bachelor of Science Degree (Hons) from the University of the West Indies in Management Studies with a focus on Marketing. In the same year, he was recognized by the Verchilds High School as one of the 25 Most Outstanding Students in its history.
Also in 2017, Samal added the title farmer/food hero to his resume by founding the award-winning Montraville Farms which grows fresh produce by using sustainable agro-technology including hydroponics. As such he was recruited by the Ministry of Agriculture to serve on its Agricultural Advisory Committee with a view to advancing the food and nutrition agenda in St. Kitts-Nevis. In 2021 he was named the Man of the Year in the area of agriculture by the Ministry of Gender Affairs.
As fate would have it Montraville Farms, coupled with the Covid 19 pandemic, re-connected him to the St Thomas-Trinity community. As a result, he championed a number of community development initiatives including co-sponsoring the community football team – the MFCR Old
Road United Jets, founding 'the Samal Duggins Finding Your Passion Scholarship', food hamper and school supply distribution programs and other key community-based programs.
Family Man, Food Hero, Producer, Composer, Entertainer, Entrepreneur, Youth Activist, Change Agent…Samal Duggins' diverse talents and accomplishments set a new standard for young leaders in St. Kitts-Nevis and beyond.