St. Kitts- Nevis National symbols include (4) four symbols: The Coat of Arms, the National Flag, the National Flower, and the National Bird. Other national elements of significant importance includes our National Anthem, the national Dish and the national male and female wear. 
Coat of Arms
National Flag
National Flower
National Bird
Coat of Arms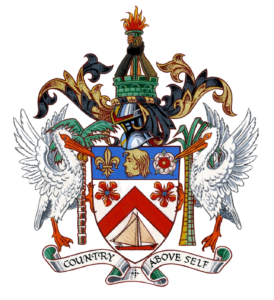 The Coat of Arms
The center of the Coat of Arms is dominated by a shield. The shield has a lighter in the full sail which is a traditional means of transportation. A red chevron is highlighted by two Poinciana flowers – the national flower. At the top of the shield on the dark blue background, is the head of a Carib Indian supported by the Fleur-de-lis and a red rose. This depicts the original Carib Indian inhabitants and the fleur de lis and rose signify the French and English influences who arrived in 1620's.
A helmet topped with battlements with a flaming torch held up by the hands and arms of an African, European and a person of mixed decent. The torch signifies the struggle and quest for freedom by a people of diverse ethnic origins, but united in purpose.
Supporters of the shield are Pelicans, the national bird, with extended wings. By the side of the bird can be seen a sugar cane plant and a coconut tree which demonstrates the fertility of the land.
The Motto of the Federation "Country Above Self" is below the shield and can be said to be the foundation of everything else
National Flag
National Flower
National Bird
Mr. Kendrick Georges (1955–2019), a trumpeter and arranger for a popular brass band, compose the national anthem of St. Kitts and Nevis
I
O Land of Beauty!
Our country where peace abounds,
Thy children stand free
On the strength of will and love.
With God in all our struggles,
Saint Kitts and Nevis be,
A nation bound together,
With a common destiny.
II
As stalwarts, we stand,
For justice and liberty.
With wisdom and truth,
We will serve and honor thee.
No sword nor spear can conquer,
For God will sure defend.
His blessings shall forever,
To posterity extend!
The national dish of St. Kitts and Nevis comprises of Stewed Salt-fish, Spicy Plantains, Seasoned Breadfruit, and Coconut Dumplings.
Stewed Saltfish
1 lb saltfish
1 green pepper diced
1 lb tomatoes chopped
5 cloves chopped garlic
4 tbsp vegetable oil
2 tbsp margarine
6 scallions finely chopped
7 tbsp parsley chopped
8 salt and pepper to taste
Method
1. Soak salt-fish overnight then boil in fresh water until tender.
2. Drain fish, remove the bones and scales and flake.
3. Heat oil in a large heavy saucepan. Add pepper, scallions, onion, and garlic. Cover and cook over low heat for 5 minutes, stirring occasionally. Add the tomatoes and simmer over moderate heat until heated through for about 5 minutes.
4. Arrange the salt-fish on a plate. Sprinkle with parsley and serve with dumplings, breadfruit, and spicy plantains.
Spicy Plantains
3 medium sizzled plantains, peeled and chopped into 1/2″ pieces
2 tbsp fresh ginger peeled and grated
1 small onion grated
1/4 tsp of salt
1/4 tsp of hot sauce or finely chopped pepper
oil for frying
Method
Combine all the ingredients in a bowl. Toss until mixed. Fry in batches until golden brown and cooked. Remove and drain on paper towels. Serve alongside salt-fish, dumplings and breadfruit.
Seasoned Breadfruit
3 cups full breadfruit chopped into 1″ pieces
2 tbsp oil
1 tbsp unsalted butter or margarine
1/2 cup of red pepper diced
1 medium onion chopped
4 garlic cloves crushed
2 tbsp fresh parsley chopped
1 tbsp fresh thyme leaves
1/2 cup chicken broth or 1 cube dissolved into 1/2 cup water
1/4 tbsp salt
1/4 tsp freshly ground pepper
Method
Melt butter or margarine in a heavy saucepan over medium heat then add oil. Add onions and cook until golden about 5 to 8 minutes, stirring often. Add garlic, thyme, red pepper and parsley and saute for 30 seconds. Remove from heat and add breadfruit with chicken broth or other prepared liquid. Toss gently to blend and heat through. Season to taste with salt and pepper. Serve with dumplings, salt-fish, and spicy plantain.
Coconut Dumplings
1/2 cup grated coconut
1 1/2 cups flour
1/4 tsp salt
1 tbsp oil
1 tbsp margarine
1/2 cup water
Method
Place flour, coconut, salt, margarine, and oil in a bowl. Gradually stir in the water to make a stiff dough. Turn onto a lightly floured board and knead for about 2 minutes. Make dumplings in the desired shape. Slide dumplings into boiled salted water. Cover and cook for about 10 to 15 minutes.
St. Kitts and Nevis' Official National wear reflects the true "Caribbeaness" of its people. A combination of African and European influences which have shaped the history of St. Kitts and Nevis is evident in both the male and female outfits.
Women's wear
It was customary for African women to scrap their heads for protection. The main dress is off-white cotton, with a corset top and an ankle-length, wide-flare petticoat bottom. The beige cotton sleeves are short and puffed by using the drawstring. 
A short lap skirt made from crocus is worn over the main dress to protect it from dirt. The madras "Cane Soda Wrap", which was used to cam soda while fertilizing sugar cane, is draped around the waist. The crocus drawstring bag was a safe way for women to secure their mane).
Men's Wear
A straw hat trimmed with madras offered protection from the hot day's sun. The short-sleeved, v-neck jack shirt trimmed with madras is made from off-white cotton. 
The design is similar to traditional shirts worn by African men. The beige cotton, the ankle-length pant is a reflection of the local fabrics that were commonly used during the colonial period.